About the Chalet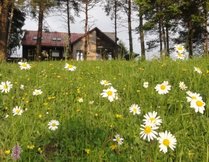 Mountain Chalet Antarik is situated near the village Valasska Senice (elevation of 727 m) in clear mountain nature of the Beskydy Mountains. It is hidden amidst the picturesque pastures, meadows and typical mixed forests. Our surroundings offer unique views of the Beskydy and Javorníky Mountains.
The poise and closeness to the nature inspired us to name the chalet Antarik. It means "a place between Heaven and Earth". If you stay here with us for some time, you will definitely understand.
We decided to reflect this atmosphere by creating a specific character of the chalet, to offer you a clean and peaceful homelike place, so that your very presence here was relaxation – a place for open-minded people, eager to live and discover.
We want to live a healthy and harmonious life style, which means not only to live in harmony with the nature, but also with the world and with ourselves. This is behind everything that we offer.

A Place to Relax Your Body and Soul
If you are looking for perfect relaxation, the forests and meadows untouched by tourists, where you can roam alone for hours, if you seek to experience the precious mountains silence and marvellous slow-passing time so miraculously preserved, then come to us. Whether you choose just to relax or join in an interesting programme, we will try to prepare the time for you which will brighten your days for a long time.