Tourist Guide
Near the chalet there is a lot of interesting hiking and cycling routes, observation towers, memorial trees, rocks, ruins of castles and there´s also a swimming pool. You can practise sports, admire the beautiful nature and visit memorial places. In the forest there is a lot of mushrooms and berries.
More information about interesting places and routes are available at the chalet.

Destinations to visit

St. Hubert´s Chapel
It is an adorable wooden chapel only 1.5 km far from Antarik, consecrated to St.Hubert, patron of gamekeepers, and to St.Joseph, patron of woodcarvers. It was built just recently, in 2012. There is a big woodcarved statue of St. Joseph and huge benches, where you can sit, snack and relax. There is also small pond and wooden belfry where anyone can ring the bell.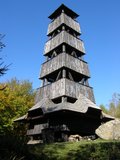 The observation tower on Čubův kopec
It is a favourite hiking place, about 5 km from Antarik on the blue trail. On the way you will pass Francova Lhota and Kobzova lipa. Then the forest path will lead you to the top of the hill with a five-storey wooden observation tower. Its shape resembles a typical Walachian hat. This observation tower is situated only about 200 m from the border with Slovakia. From one side of the tower you can see Slovakia (in clear weather up to Mala Fatra) and from the other side you can see Bohemia, up to Vizovicke vrchy. You can also see Antarik from there.

Kobzova Linden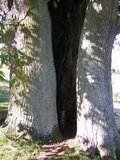 Memorable and protected tree, 450 years old, with trunk circuit bigger than 7 m. There are many tales about this tree. One of them says that during the Hungarian invasion to Bohemia some villagers took shelter in that tree and thus saved their lives.

Mechanical Bethlehem Horní Lideč
In the Betlehem exposition you can see wood carved figures and architectures, and also woodcarvings of the most interesting tourist places of the Zlín and Trenčín region. Fifteen woodcarvers created countless basswood figures and buildings that will remind the visitors of contemporary customs, trades and historical events. You can also see an impressive film.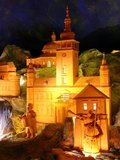 Makyta
The highest peak of the western part of the Javorniky Mountains (923m) with well-preserved original forest flora. It is only 4 km from the chalet on the blue mark trail. It is a basic starting point for most of the ridge hikes. From there you can go to Kohútka (chalet) - 8km and Portáš (chalet) - 10km, Malý Javorník (peak) - 15km and Velký Javorník (peak) - 22.5km or to Pulčínské rocks - 11.5km. You can also descend to Slovakia to the village Lazy pod Makytou and Lysá pod Makytou. In Makyta region there are wild animals like the lynx, the wolf or the bear, but they are rarely to be seen.

Pulčín Rocks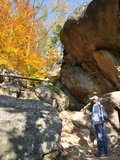 This reservation is the largest rock labyrinth in Moravia. It includes big and small rock walls and blocks, the rock sea and several caves. There is also a sandstone town Izby and there used to be a castle named Pulčín, from which only the stone stairs were preserved. Pulčín rocks is a favourite and often visited tourist place and is really worth seeing. From Antarik you can follow blue and yellow mark to crossroads Skaličí, and blue mark from there. Or you can drive to Francova Lhota and then follow the red mark trail. It is also possible to take a longer way via Makyta, Valašska Kyčera, Šerklava and Radošov. The refreshment is available in village called Pulčín.

Čertovy (Devil´s) Rocks
Situated in the village Lidečko. It is an interesting rock area, very popular among the rock climbers. There are many tales about this place, e.g. one about the bet of a clever Walachian miller with the devil (hinted by the name of the place).

Lačnovské Rocks
Lačnovské Rocks are best to approach from Lačnov by the yellow mark trail (about 3 km). First you come to the lower Lačnovské rocks (also called Trčkovy) and 800m further on there are smaller in size upper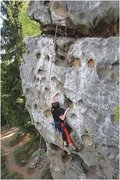 Lačnovské rocks. In the surrounding there is a lot of foxglove flowers in summer. The rocks belong to the educational trail Vařákovy glades.

Village Valašská Senice
It is situated about 5km from Antarik. Following blue and yellow marked trail it´s only 2km. Near Valašská Senice there is a spring, a gazebo and a small pond with the wild ducks.
The village has a nice chapel of St. Cyril and Method (the founders of Slavic literacy) built in 1970-71. The chapel is connected with the annual Cyril and Method pilgrimage in July.


The sports activities take place at the reconstructed swimming place with two swimming pools, one for adults (25m) and another for children. There are also playgrounds for various sports and refreshment.

Village Francova Lhota
It is about 4 km from the chalet along the blue trail. The way offers a beautiful view of typical Wallachian country – mixed forests, meadows and pastures.
In the centre of the village there is a glockenspiel belfry playing ten melodies.
Near the belfry you can have a refreshment in the restaurant Ranč U Zvonu.
The dominant of the village is the Church of Stephen, King of Hungary from 1787. Nearby is a 450 year-old tree – Kobza´s linden.